'Restoring You' Food Drive: A month in and a spotlight on the Central Texas Food Bank's Mobile Food Pantry
Since kicking off Caliber's ninth annual 'Restoring You' Food Drive, we've been heartened by the support of both teammates and customers in donating to the cause of relieving child hunger and food insecurity across the country. To date: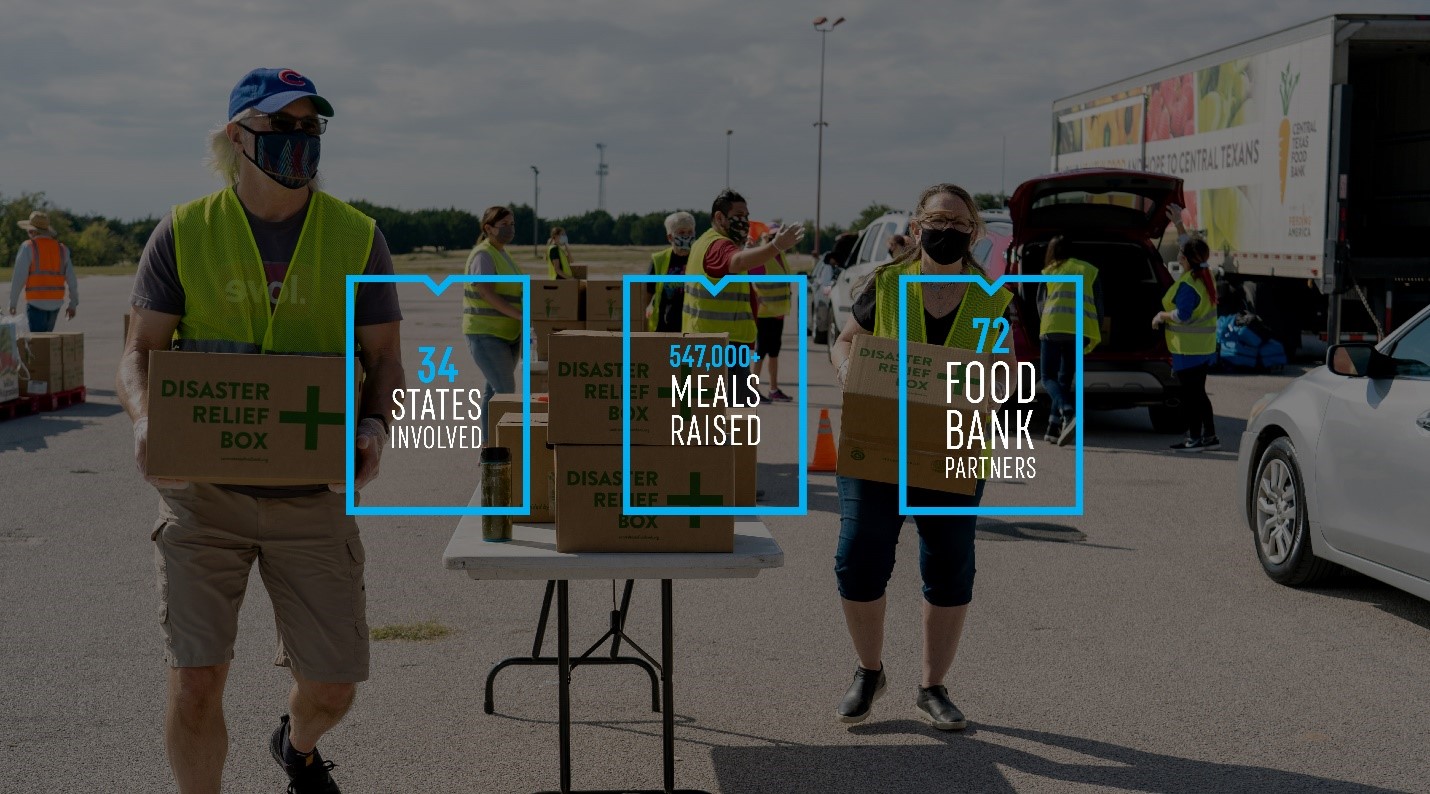 Feeding the hungry in our communities is, of course, a collective effort, one that hinges on strong partnerships with food banks like the Central Texas Food Bank. This year, during unprecedented times, the CTFB has adapted a new model to bring hunger relief directly to those who need it, while mitigating health risks. It's the Mobile Food Pantry.
Typically, the CTFB has met community needs with dynamic solutions on many levels—from culinary training and meal distributions at the community kitchen to summer food service and backpack programs. The pandemic, however, has affected communities and families in Central Texas in new, profound ways, prompting a shift towards a mobile, we-come-to-you approach that has been vital to the CTFB's continued mission.
By implementing health safety and sanitation protocols, the CTFB has converted a distribution model to focus only on emergency food boxes, while distributing food in drive-through settings wherever it is safer and more practical to do so—across the 21 counties the CTFB serves. This is a huge undertaking.
In fact, the CTFB has provided more than 3.1 million pounds of staple foods, fresh produce and meats to an average of 16,216 Central Texans per month, thanks to its Mobile Food Pantry. We at Caliber take pride in our food bank partners and those who inspire us to further our purpose of Restoring the Rhythm of Your Life®.
To donate to our 'Restoring You' Food Drive, visit ryfooddrive.com today. To find volunteer opportunities, like the CTFB's Mobile Food Pantry, with food banks in your area, visit feedingamerica.org/take-action/volunteer.
Published 2021.
How can we help? Let's get you back on the road
Get an estimate
Tell us about you and your vehicle to get a free initial repair estimate.
Schedule an appointment
Find a time that works best for you and we'll start Restoring the Rhythm of your Life.
Contact Us
If there's something specific you need help with, let us know.