What Is National Child Passenger Safety Week?
At Caliber, we know that your family members, especially your children, are precious cargo. So, in honor of National Child Passenger Safety Week, which is celebrated the third week in September, we want to draw attention to keeping your littles (and your bigger kids too) safe as you make it from point A to point B. A primer on proper car safety seats for children, focusing on parents and caregivers using the correct safety seats for children based on their age, weight, and height, can help refresh your good safety habits.
Car Seat Types
Unfortunately, motor vehicle injuries are the leading cause of death among children, according to the National Highway Traffic Safety Administration and the Centers for Disease Control. Many of these deaths can be prevented with the proper use of child safety seats. 
A car seat is perhaps the most important item you'll ever buy for your child, but knowing which to choose can be difficult. There are three types of car seats for infants and toddlers, including rear-facing and front-facing seats and convertible options that change from rear- to front-facing as needed. And no matter the car seat, always place it in the backseat of your vehicle.
According to the American Academy of Pediatrics, children should remain in rear-facing car seats for as long as possible, until they reach the highest weight and height meant for their seat. For instance, an infant-only car seat may be used until your baby is 20 to 22 pounds or until the child's head is within an inch of the top of the seat. These types of car seats generally weigh less and are portable so they are easy to remove from the car without waking the baby. The seat base remains strapped into your vehicle, and the carrier snaps in and out of the base. A convertible car seat can also be used for newborns and infants and is a better choice if you want something that lasts while your child grows. Most have limits that allow your child to ride rear-facing until they are about 2 years of age. Convertible seats are not portable, however – they remain in the car. 
Once your child outgrows a rear-facing car seat, they should use a forward-facing seat with a harness. This type of seat should be used for as long as possible, until they've reached the appropriate age and height requirement. Many forward-facing car seats can accommodate a child up to 65 pounds, although it's important to refer to your car seat manual to find out the actual weight and height requirement for your particular seat, as each is different. 
A combination car seat features a harness that can be used until your child is 40 to 65 pounds. After that, simply remove the harness and the car seat converts to a belt positioning booster that can then be used for children 80 to 100 pounds. Booster seats are usually required from the time a child is 3 or 4 years old until they are about 8. 
Once your preschooler has outgrown a forward-facing seat with a harness, they should use a belt-positioning booster with a lap and shoulder belt. Children also require head support, so plan on buying a high-back booster seat if your car's back seats are low. 
How to Install a Booster Seat
Be sure to read all instructions before installing your child's booster seat. While most booster seats are installed the same way, there are nuances to some booster seats that should be kept in mind. Place your child's booster seat in the car's rear seat — never the front seat. The best place for our child's booster seat is in the middle of the car's rear seat. However, if it doesn't fit or only has a lap belt, install the seat to the left or right, whichever makes it easiest to view your child from the driver's seat and simplifies getting your child out on busy streets. Use the booster's clips and guides, if they have any. 
To ensure your child sits snugly but comfortably in the seat, adjust the car's seat belt as you normally would, double-checking to make sure the booster seat remains secure while your child is sitting in it. Adjust the seat belt if necessary. Always use a lap-shoulder seat belt; the lap part should rest on your child's torso, and the shoulder part should fit comfortably across your child's chest.
Booster Seat Types
There are three main types of booster seats:
High-back booster seats. These provide an extra level of protection with shock-absorbing side bolsters (aka "wings") around the child's head, neck, and, in some cases, sides. Most come with seat belt guides to correctly position the vehicle's seat belt across the chest, shoulders, and hips; in many cases, the high-back booster seat can be attached to your rear car seats using the LATCH system.
Combination harness-to-booster seats. This is essentially a high-back booster seat with a removable five-point harness. It turns into a high-back booster seat when you remove the harness, once your child has outgrown the weight and height limitations. 
Backless booster seats. A traditional type of booster seat, it has a cushion that raises your child up off the seat so they receive better seat belt protection. It can be attached to the vehicle's seat using the LATCH system but just sits on the seat in many cases.
Car Safety Seat Checks
A child safety seat can only work properly when it's properly installed. Not sure if yours is? A quick visit to your local Caliber Auto Care location for a car safety seat check can give you the peace of mind that your child's car seat or booster seat is properly installed. As your child grows, you'll want to check the fit regularly. 
When Is It Safe for Your Child to Ride in the Front Seat?
Once your child reaches the age of 8 or 9 years old and is at least 80 pounds and 4 feet 9 inches, they may graduate to sitting in the front seat. Children under the age of 8 may sit in the front seat if they are using a front-facing restraint system. Although an acceptable age and weight varies by state, the general consensus is 8 years old and between 65 to 80 pounds for children sitting in the front seat.
The American Academy of Pediatrics disagrees, however. They recommend that a child be 13 years of age before riding in the front seat, and maybe even older than that if the child is small for their age. The main danger of a child riding in the front seat is injury if your airbags deploy. Airbags are designed to protect adults who are at least 5 feet tall and roughly 150 pounds. Because airbags deploy rapidly, they have the ability to lift a child up from the seat and slam them against the top of the car, which may result in head injuries. If your older child wishes to sit in the front seat, be sure to:
Move the seat back as far away from where the airbag deploys
Make sure your child is always wearing a seat belt
Make sure your child wears their seat belt properly, across the chest and lap
While you're focusing on child safety, remember that keeping your car in great running condition also increases your family's safety on the road. Visit Caliber Auto Care for all your automotive needs, from oil changes to new tires. 
Find a Caliber Auto Care location
Caliber Auto Care takes the place of your dealership's service department and your local quick oil and mechanical repair shop with efficient, high-quality auto repair or maintenance services at an affordable price.
We know that scheduling car care services between work, school and play can be a hassle. That's why we make it as easy and straightforward as possible, offering you neighborhood convenience, superior service, comfortable waiting areas or free local shuttle service and the option of staying in your vehicle for some services while we work. It's all about meeting your needs and standing behind our work.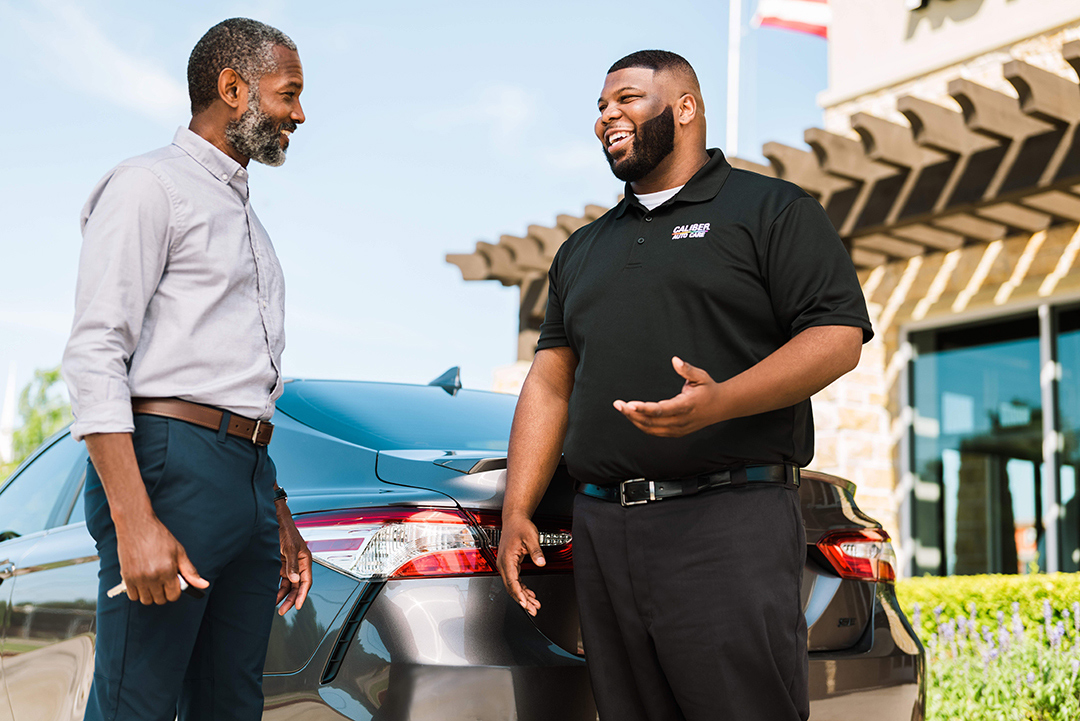 How can we help? Let's get you back on the road
Get an estimate
Tell us about you and your vehicle to get a free initial repair estimate.
Schedule an appointment
Find a time that works best for you and we'll start Restoring the Rhythm of your Life.
Contact Us
If there's something specific you need help with, let us know.