Tips for Getting You and Your Car Ready for Icy Roads
Driving on ice is no easy task, especially for new drivers or drivers with little or no experience handling icy road conditions. According to the Federal Highway Administration (FHA), more than 70 percent of our nation's roadways are found in regions of the country that receive more than 5 inches of average snowfall each year, and with snow comes ice.
When snow, sleet, and ice prevail, drivers must be armed with the knowledge it takes to maintain control behind the wheel (or at minimum, practice some creative steering to avoid a collision). If the weather outside has you wishing you were driving a Zamboni — the ice-resurfacing machine named for California ice rink owner Frank Zamboni — instead of a car, then pay close attention to our car maintenance tips to prepare yourself and your car for winter-weather driving, along with special tips for driving on ice.
Get Prepared for Icy Conditions
First things first. Before you head out on icy roads, be sure you and your car are ready. Car maintenance is critical when it comes to safely navigating icy roads. Some tips to keep it running as it should:
Top off the windshield washer fluid. A big part of car maintenance is keeping your windshield washer fluid reservoir filled. Choose a special winter mix to help de-ice your windshield during the cold months of the year. 
Consider winter tires. If you live in a location where temps fall below 45 degrees F, think about investing in snow tires to improve your traction on cold roadways.
Keep a check on tire pressure. Your tires lose traction on ice (not to mention, wear out more quickly) when they're not inflated properly. Before heading out into inclement weather, do a trip check to make sure your tires have the appropriate pressure.
Raise wipers when the mercury drops below 32 degrees F. By leaving your wipers in a raised position, you prevent them from becoming frozen to the windshield. Moreover, use an ice scraper instead of your wipers to remove frost, snow, or ice.
Fuel up. Keep your car's fuel tank at least half full in case you get stuck out in the ice or snow and are forced to brace the temperatures until emergency help arrives.
Keep necessities in the trunk. An emergency kit is always essential for icy weather driving. In addition to your regular emergency supplies, add some warm clothing such as gloves and hats, a blanket, flashlight with extra batteries, and an extra phone charger. Also add bottled water and snacks, a few doses of any regular medication you need, an extra ice scraper, and a small shovel in case you need to dig out. In addition, you might consider throwing a bag of kitty litter in the trunk. If you get stuck in ice, kitty litter may give you just the traction you need to get going again.  
Go for a complimentary trip check with Caliber Auto Care before any winter car trips. We'll check your tires, battery, belts, hoses, headlights, and more, to ensure that your vehicle is ready for winter travel. 
Driving On Icy Roads
As many as 24 percent of all weather-related car crashes happen on icy or snowy roads, notes the FHA. Sleet and snow affect visibility, making it harder to see your surroundings, snow accumulates and causes obstruction on the roadway, and ice reduces the amount of traction between your tires and the pavement. AAA offers these tips for staying safer on icy roads:
Slow down. When driving on ice and snow, adjust your rate of speed to take into account the lessened traction.
Avoid skids. When driving in icy conditions, slowly accelerate and decelerate. Gain more traction by accelerating slowly. Needed stopping time increases on ice, so allow yourself more time to slow down for stop signs and stop lights.
Brake carefully. Use steady, firm pressure when pressing the brake pedal. Avoid sudden braking.
Allow 5 to 6 seconds of following distance. Err on the side of caution, and provide yourself an extra buffer when following vehicles in case you need to slow down or stop.
 Avoid stopping. Slow down instead of stopping where possible, since it takes much more inertia to start moving again than it does to keep moving while slowly rolling along. If you're going uphill, don't stop, since getting moving again may be difficult or even impossible.
Stay weather aware. When possible, avoid being out on the roadways when they're icy. Pay attention to forecasted weather, and plan accordingly. If you can stay home, do so.
Whether on ice, trails, roads or racetracks, vehicles are evolving at a faster rate than ever. When it comes to collision and auto repair, we are keeping pace and adapting with innovations to stay ahead of the industry and keep our customers safe. If you do have a winter weather related collision, Caliber Collision will help you get your vehicle back to pre-collision condition and Restore the Rhythm of Your Life®.
Find a Caliber Auto Care location
Caliber Auto Care takes the place of your dealership's service department and your local quick oil and mechanical repair shop with efficient, high-quality auto repair or maintenance services at an affordable price.
We know that scheduling car care services between work, school and play can be a hassle. That's why we make it as easy and straightforward as possible, offering you neighborhood convenience, superior service, comfortable waiting areas or free local shuttle service and the option of staying in your vehicle for some services while we work. It's all about meeting your needs and standing behind our work.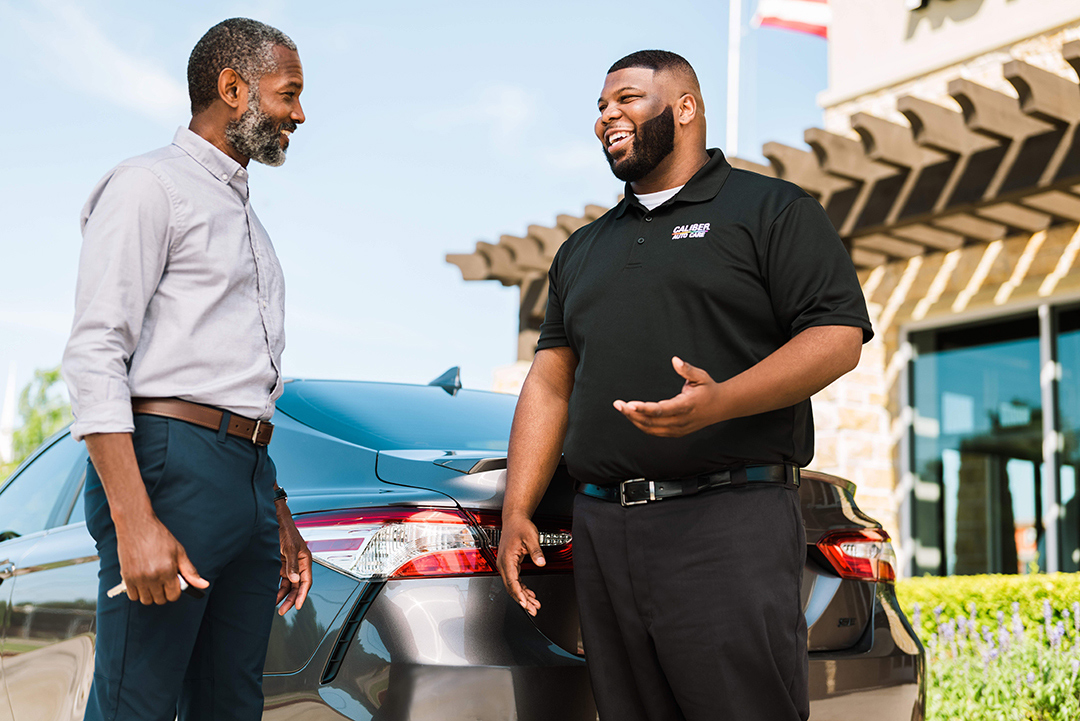 How can we help? Let's get you back on the road
Get an estimate
Tell us about you and your vehicle to get a free initial repair estimate.
Schedule an appointment
Find a time that works best for you and we'll start Restoring the Rhythm of your Life.
Contact Us
If there's something specific you need help with, let us know.