Summer Road Trip Preparedness: A Car Care Checklist
In 2022, around 208 million American adults — or roughly 81 percent of the adult population of the United States — plan to travel over the summer despite higher gas prices so far this year.  And, an estimated four out of five of those would-be travelers plan to take a road trip. If you're among them, then you've likely mapped out your route, booked your Airbnb in advance, and packed your luggage, but what about getting your car ready? If your plans include driving in summer traffic, then your car needs a little TLC first.
Road trip preparation is nothing to take lightly, since driving in summer presents its own special challenges. A car maintenance checklist of things to take care of before you depart can help make your great American road trip go off without a hitch.
Battery Check
Don't get caught out on the road with a dead battery. The connections on your battery should be tight and clean. The trusted technicians at Caliber Auto Care can perform a battery check to make sure that it's charging properly and ready for you to hit the road.
Wiper Blades and Fluid Check
Check your car's wiper blades, and refill the wiper fluid if needed. Visibility on the road is crucial to your family's safety, especially when driving in summer with elements like dust, bugs and rain to contend with. Replace any worn wiper blades, and replenish your vehicle's windshield washer fluid before you head out.
Top Off All Fluids
Power steering, transmission, coolant, brake and engine oil are all important for the reliable operation of your vehicle. Topping off all fluids prior to blazing a trail to your vacation destination is recommended. 
Repair Chipped/Cracked Windows
Get any chipped/cracked windows repaired. Chipped or cracked windows can worsen as time goes by and the summer heat increases. Don't risk a small crack becoming a large break that can impact your safety on the road or mess up your itinerary. For your convenience, Caliber Auto Glass mobile repair unit can come to you at your home or office and fix your windshield so you can leave on your trip with peace of mind.
Brake Check
Listen to your brakes, as they are vital to your family's safety on your trip. A great way to test your brakes is to listen for any odd sounds or feeling for any sort of vibration when you hit your brake pedal. If you hear any grinding or screeching, then have Caliber Auto Care check your braking system to ensure that your brake pads, brake shoes, drums and rotors are in good shape and there are no brake fluid leaks.
AC Check
Make sure your air conditioning is up to par. Staying comfortable and cool no matter how hot it gets is important to your family's overall enjoyment of your trip. If your car's AC doesn't seem to be cooling like it should, ask the Caliber Auto Care techs to take a look.
Tire Check
Your tires have a big job getting you from point A to point B and all those little points in between. Make sure that you inspect all four of your tires, and be certain that your spare tire is present and in good shape. Look for any bulges in the sidewalls of your tires, and keep an eye out for gouges, nails or cuts. Check tire tread depth with a penny. Abe Lincoln's head should disappear between the treads on your tire. If it doesn't, think about putting some new tires on your vehicle before you hit the road. 
Tire pressure is also another important check, but be sure to test it when your tires are cool. Always defer to your vehicle manufacturer's recommendations when it comes to proper tire inflation. You should be able to find this information on the inside of your driver's side door jamb or in your vehicle's owner's manual. 
Roadside Emergency Kit Check
Before heading out for summer fun on the road, replenish your roadside emergency kit. AAA says that basic items come in handy if you have a breakdown on the roadway. Be sure that your roadside emergency kit is stocked and ready for any possibility with items such as first aid supplies, batteries and a flashlight, booster cables, basic tools, gloves, emergency flares, and, since you're driving in summer heat, drinking water.
Once you've ticked all the boxes on this car care checklist before your road trip, you can feel confident that it's happy trails ahead. And, to make your life easier, Caliber Auto Care can perform a complimentary car check for you. Our experts will check oil levels, tire pressure, tire integrity and more to ensure your car is working properly so you can focus on the journey ahead. 
Find a Caliber Auto Care location
Caliber Auto Care takes the place of your dealership's service department and your local quick oil and mechanical repair shop with efficient, high-quality auto repair or maintenance services at an affordable price.
We know that scheduling car care services between work, school and play can be a hassle. That's why we make it as easy and straightforward as possible, offering you neighborhood convenience, superior service, comfortable waiting areas or free local shuttle service and the option of staying in your vehicle for some services while we work. It's all about meeting your needs and standing behind our work.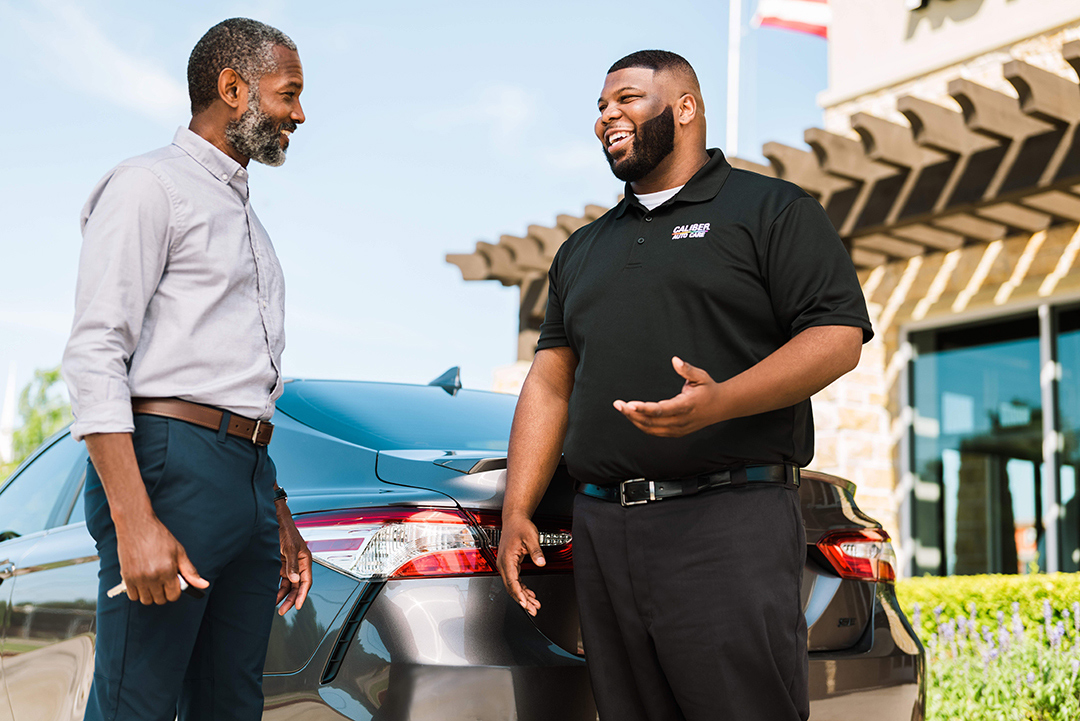 How can we help? Let's get you back on the road
Get an estimate
Tell us about you and your vehicle to get a free initial repair estimate.
Schedule an appointment
Find a time that works best for you and we'll start Restoring the Rhythm of your Life.
Contact Us
If there's something specific you need help with, let us know.