Stuffing the Trunk: Thanksgiving Travel Tips
Turkey Day looms large, and if you're planning to be among the tens of millions of travelers on the roadways this Thanksgiving, it helps to be prepared. With a bit of forethought and planning, Thanksgiving travel can be an enjoyable, memorable part of your holiday. Before heading out to your Thanksgiving destination, a few tips from Caliber can help you get where you're going with minimal stress.
Plan Ahead
Heading over the river and through the woods to grandma's house (or wherever your Thanksgiving travel plans take you) is easiest and a lot more fun when you plan ahead. Your car is clean and prepped for autumn, and some road-trip preparation goes a long way toward ensuring an enjoyable excursion for the holiday. Plan ahead by:
Making sure your vehicle is ready for the drive. Caliber can help you check road-trip readiness off your to-do list with a complimentary car check. Our certified auto techs check everything from tire integrity and pressure to oil levels, so you can have confidence that you'll get where you're going without any mechanical problems.
Planning your route and alternatives. Consider rush-hour traffic in the cities along your route when factoring in how long to allow yourself for your drive. Sometimes, it's better to take an alternate route around larger thoroughfares when planning Thanksgiving travel. As a bonus, with fall in full swing, opting for a more scenic route means you may pass through some amazing landscapes to set the mood for your Thanksgiving holiday.
Stocking the car. Having toll money, gas money, snacks, supplies, and entertainment for kids can ensure you don't have to make unscheduled stops.
Checking weather and traffic and preparing accordingly. Apps that offer real-time road and traffic conditions can be helpful, letting you reroute your Thanksgiving travel plans on the fly.
Being flexible and prepared for the unexpected. November's weather is often unpleasant, which can mar Thanksgiving travel. Be ready for any setbacks and glitches in your itinerary.
Planning to arrive early if possible. Being fashionably early is a vibe when it comes to family get-togethers. Remember, the day before Thanksgiving is historically the busiest day for travel for the whole year. 
Drive Smart
Getting there is half the fun, but getting there safely is essential. Some tips: 
Get rest. A well-rested driver is a safer driver. Rest up before you head out, and get enough rest before you head back home.
Take breaks. If possible, share driving duties with other drivers in the car. This prevents any one person from getting too fatigued that safety is compromised.
Avoid distractions. It goes without saying that distractions such as texting, playing with the radio, and monkeying around with the GPS are unsafe and foolhardy practices while driving.
Stay calm. The holidays are stressful, and driving with a carload of kids or relatives can add to that stress. Do your best to stay calm and focused on the road.
Don't drive if you've had alcohol with Thanksgiving dinner. In 2019, the last year stats are available, 29 percent of all Thanksgiving Day traffic fatalities involved an impaired driver.
Make sure kids and pets are safely secured. Getting your loved ones where you're going and back again safely is the No. 1 goal for your Thanksgiving travel plans. Be sure that kids buckle up and pets are secured safely before your wheels start rolling.
Timing Your Thanksgiving Travel Plans
When you're ready to head out with your gang to get the holiday underway, there are definitely best and worst days and times to travel for Thanksgiving. Getting there, experts say to leave after 9 p.m. the night before or earlier than 11 a.m. on Thanksgiving Day. This helps you avoid the worst of the Thanksgiving travel rush. Coming home, the Sunday following Thanksgiving is the worst time to be on the roads, especially from 1 p.m. to 7 p.m. Instead, think about leaving early Friday, Saturday, or Sunday morning to avoid the big rush back home.
By preparing for Thanksgiving travel ahead of time, you can keep your focus on what really matters: spending time with friends and family. And while you can usually prevent food spillage and unexpected detours, some roadside surprises are harder to avoid than others. If you find your journey derailed by a collision, remember that your Caliber is here to help, Restoring the Rhythm of Your Life®.
Find a Caliber Auto Care location
Caliber Auto Care takes the place of your dealership's service department and your local quick oil and mechanical repair shop with efficient, high-quality auto repair or maintenance services at an affordable price.
We know that scheduling car care services between work, school and play can be a hassle. That's why we make it as easy and straightforward as possible, offering you neighborhood convenience, superior service, comfortable waiting areas or free local shuttle service and the option of staying in your vehicle for some services while we work. It's all about meeting your needs and standing behind our work.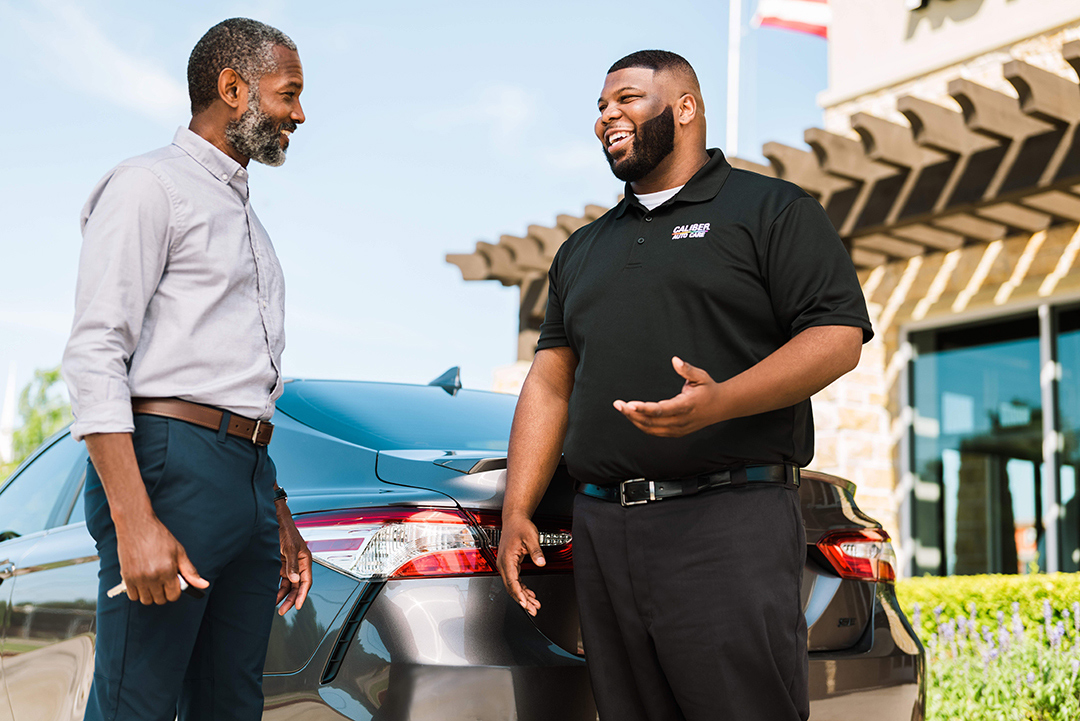 How can we help? Let's get you back on the road
Get an estimate
Tell us about you and your vehicle to get a free initial repair estimate.
Schedule an appointment
Find a time that works best for you and we'll start Restoring the Rhythm of your Life.
Contact Us
If there's something specific you need help with, let us know.