Get It Straight: Car Alignment Is Everything
If your car pulls to one side or your tires look unusually smooth on one edge, it can mean your car is out of alignment. There are also some signs of misalignment that are harder to spot. Plus, other mechanical problems can develop when your car is out of alignment. However, it isn't all bad news, because the pros at Caliber are available to help. 
In the long run, you could end up spending more on repairs if your car is out of alignment and you let it go. A little bit of auto maintenance goes a long way toward keeping your car in good condition, and a four-wheel alignment is a perfect example. 
How to Spot Vehicle Alignment Problems 
Poor car alignment can have an effect on how your car handles and can make it more difficult to drive safely. Some issues you may notice if your car is out of alignment include: 
A tire that looks cambered, or tipped, when you look straight at it from the front or rear of the car.
A tire that looks like it's pointing inward or outward when the rest of the tires are straight.
A steering wheel that's off-center, or tipped, when you're driving straight.
One edge of your tire tread wears out faster than the rest of the tread.
Pulling your car toward the ditch or oncoming traffic.
Sloppy steering that leads to unresponsive handling.
Steering wheel vibration when you're driving.
Tires that screech when you turn, even if you go slow.
For normal driving conditions, investing in an alignment every one to two years is a great way to ensure you enjoy a smooth ride. But, where the rubber meets the road, there's more to an alignment than meets the eye.
Car Alignment Benefits
Car alignment is important in making sure your vehicle handles properly and for keeping it in top condition. Some examples of the benefits you get from a simple car alignment from Caliber include:
Fuel Savings –  Due to road resistance, your car has to work much harder when your tires are out of alignment. Fix that, and the maintenance could soon pay for itself.
Tires May Last Longer – Your tires wear out faster and need to be replaced sooner when your vehicle is overdue for alignment service. Most tire warranties don't cover lack of maintenance, so the cost of new tires will come out of your own wallet. 
Protecting the Environment – A properly aligned vehicle uses less gas and, in the long run, fewer tires. That's good news for the environment and a win-win-win situation for you.
Safer Driving – Uneven wear and tear from improper alignment can cause a dangerous tire blowout. According to the NHTSA, proper alignment helps keep your car from pulling to the side when you're driving on a road that's level and straight. 
Helps Your Car Last Longer – Your car is an impressive piece of interconnected machinery. That means if the alignment gets out of whack, other parts can too, including your brakes, steering, suspension. 
Caliber Collision Alignment Services
Clearly there's more to auto alignment than making sure your car drives in a straight line. If it's been a while since your last alignment or you've hit a curb or a large pothole recently, stop by your nearest Caliber Auto Care shop to get it checked out.
Find a Caliber Auto Care location
Caliber Auto Care takes the place of your dealership's service department and your local quick oil and mechanical repair shop with efficient, high-quality auto repair or maintenance services at an affordable price.
We know that scheduling car care services between work, school and play can be a hassle. That's why we make it as easy and straightforward as possible, offering you neighborhood convenience, superior service, comfortable waiting areas or free local shuttle service and the option of staying in your vehicle for some services while we work. It's all about meeting your needs and standing behind our work.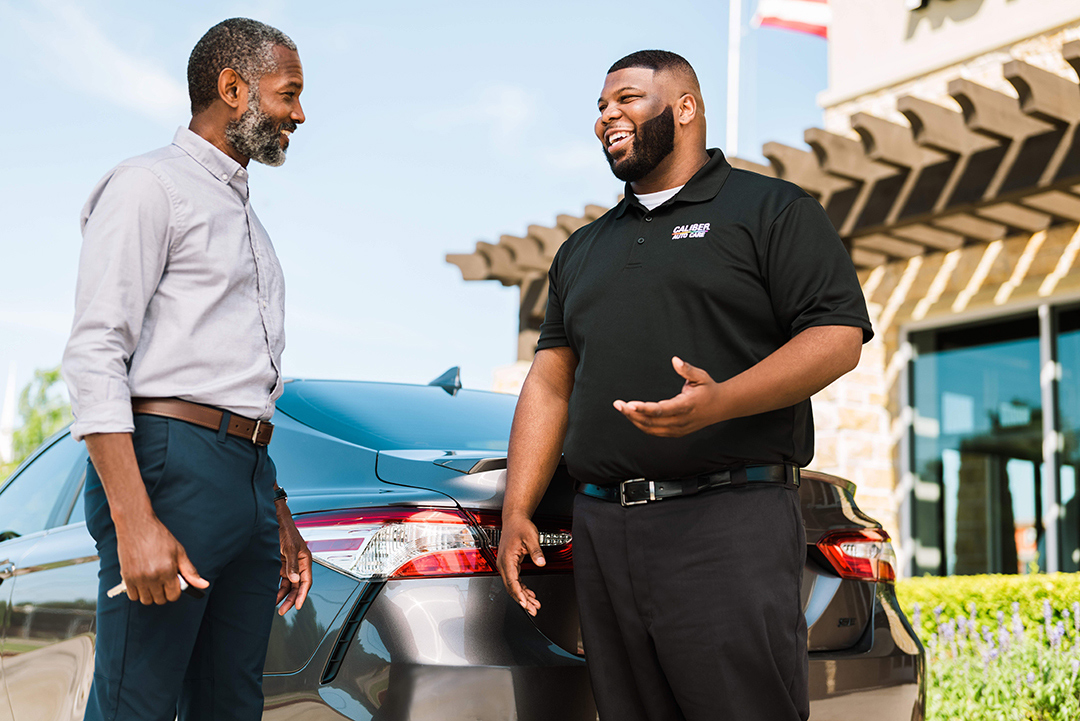 How can we help? Let's get you back on the road
Get an estimate
Tell us about you and your vehicle to get a free initial repair estimate.
Schedule an appointment
Find a time that works best for you and we'll start Restoring the Rhythm of your Life.
Contact Us
If there's something specific you need help with, let us know.