Importance of Getting a Complete Car Diagnostic Test
At Caliber, our purpose is Restoring the Rhythm of Your Life® and that means helping you reduce any interruptions by caring for your vehicle. The first step to preventative car care comes from scheduling a car diagnostic test. It can help detect issues before they turn into expensive repairs or worse, your car breaks down out on the road. If your check engine light comes on, or your car doesn't sound or "feel" right, you should immediately check in with a professional technician who can perform a diagnostic test and let you know what is going on. Our teammates at Caliber Auto Care will get your car running normally again.
What is a car diagnostic test?
When your dashboard lights start appearing, it's time to find expert mechanical help. At Caliber Auto Care, we perform a car diagnostic test which utilizes specialized equipment to scan your vehicle's engine, transmission and more. We'll analyze the results and quickly and accurately pinpoint problem areas in your car. 
What areas of a car can be tested?
Diagnostic tests can help locate problems within your car's engine, transmission, exhaust system, brakes, and all other major components. It's important to see a professional to get an accurate diagnosis.
The knowledge and expertise of our technicians are critical to resolving issues. We use diagnostic tool codes to determine the area where the problem is located, not the exact underlying issue.
Once our technicians pinpoint what part of your car needs attention, they will take a closer look at the affected area. The car diagnostic scan helps find the problem and our techs fix it.
How often should you get a diagnostic test?
For preventative maintenance, many technicians recommend taking your car in for a diagnostic test at least once a year. Some issues fly under the radar but can still cause damage. But, if your check engine light comes on, schedule a diagnostic test right away.
Where can you get an auto diagnostic test?
Bring your vehicle to any Caliber Auto Care location for a complete diagnostic test. Trust us to get your car running like new. Schedule a diagnostic test service with our professional technicians at Caliber Auto Care today or call the center nearest you for an appointment.
Find a Caliber Auto Care location
Caliber Auto Care takes the place of your dealership's service department and your local quick oil and mechanical repair shop with efficient, high-quality auto repair or maintenance services at an affordable price.
We know that scheduling car care services between work, school and play can be a hassle. That's why we make it as easy and straightforward as possible, offering you neighborhood convenience, superior service, comfortable waiting areas or free local shuttle service and the option of staying in your vehicle for some services while we work. It's all about meeting your needs and standing behind our work.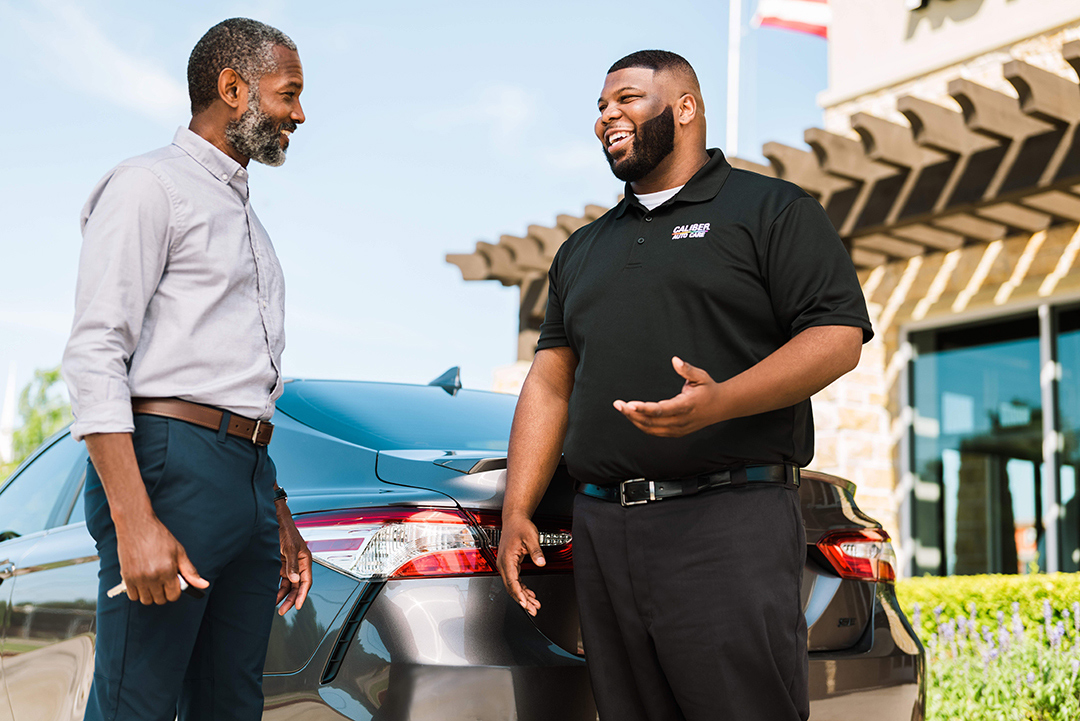 How can we help? Let's get you back on the road
Get an estimate
Tell us about you and your vehicle to get a free initial repair estimate.
Schedule an appointment
Find a time that works best for you and we'll start Restoring the Rhythm of your Life.
Contact Us
If there's something specific you need help with, let us know.