Caliber Auto Care AC and Heat Repair Services
The expert technicians at Caliber Auto Care are always ready to help repair or replace your car's air conditioning or heating systems. We'll make sure everything is working perfectly, so you are comfortable and able to get back to what's important.
How do I know if I need vehicle A/C repair?
Our ASE-certified technicians will diagnose the problem and suggest solutions. They will walk you through the repair process step-by-step, educating you along the way,  so you can make the best decisions for you and your family. These are signs that you might need to have your air conditioning system repaired:
A/C is not working properly 
A/C is not blowing cold air
Unusual clicking noise coming from the engine when turning on A/C
Unusual smell coming from A/C vents
Water leaking under the dash or front floor mats after running the air conditioning
When to get your car heater serviced?
If you're experiencing any of the issues listed below, bring your car in for an assessment.
Unusual odor, possibly signifying radiator fluid and/or coolant are leaking 
Windows completely fog
Heater does not blow hot air 
Needing to fill coolant more frequently
Engine overheats
We can help
Our ASE certified technicians will repair all of your car's A/C or heating system issues, including: 
Freon or coolant leaks
Blown fuses
Low refrigerant charge
Broken compressor
Clogged condenser or evaporator
Clogged filters
Clogged or broken expansion valve or heater core
Loose or broken drive belt
Slipping compressor clutch
Defective lines, hoses or seals
Why Caliber Auto Care?
We do things The Caliber Way. This means Caliber Auto Care is committed to building trust through transparency. Our team will always educate you on your car's health and offer straightforward solutions and pricing, so you can make the right decision for you and your family. We know how important your car is to you, so we make it easy to schedule and complete all your repair and maintenance services in one place.
Find a Caliber Auto Care location
Caliber Auto Care takes the place of your dealership's service department and your local quick oil and mechanical repair shop with efficient, high-quality auto repair or maintenance services at an affordable price.
We know that scheduling car care services between work, school and play can be a hassle. That's why we make it as easy and straightforward as possible, offering you neighborhood convenience, superior service, comfortable waiting areas or free local shuttle service and the option of staying in your vehicle for some services while we work. It's all about meeting your needs and standing behind our work.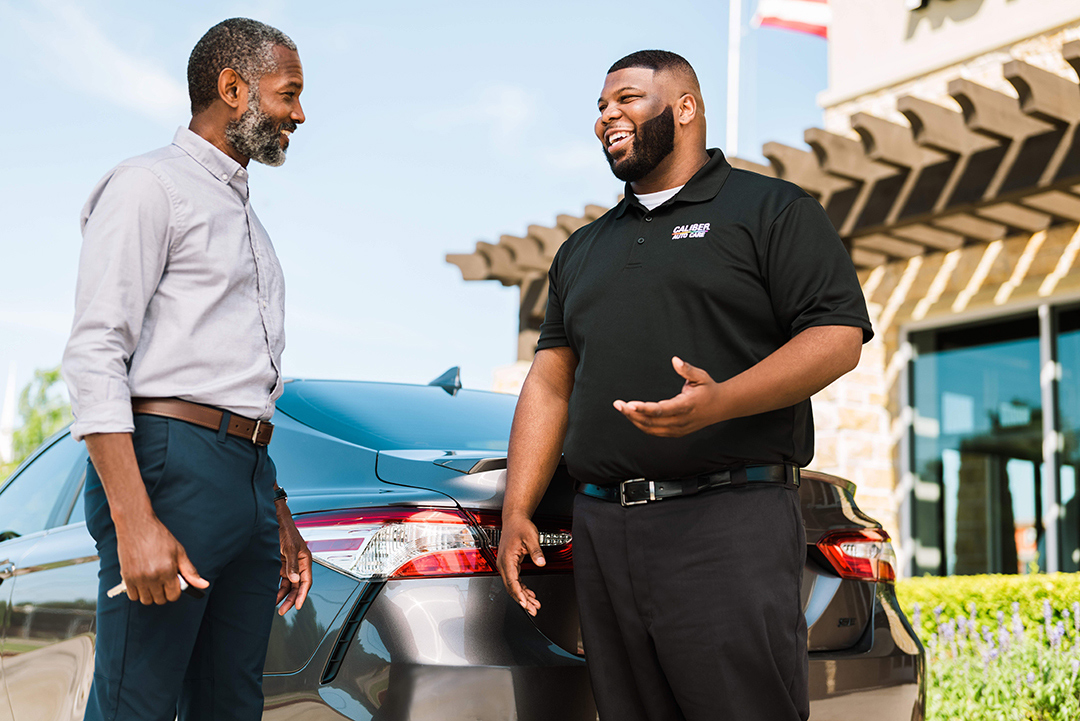 How can we help? Let's get you back on the road
Schedule an appointment
Find a time that works best for you and we'll start Restoring the Rhythm of your Life.
Get an estimate
Tell us about you and your vehicle to get a free initial repair estimate.
Contact Us
If there's something specific you need help with, let us know.